Nestled into the mountain at 3,200-ft elevation, Kula Lodge offers the best of Upcountry hospitality. Built as a private home in 1948, it was a site of glamorous parties with the stars like Frank Sinatra, Spencer Tracy and Katharine Hepburn in attendance. Converted into the lodge and a restaurant in the early 1950s, five guest lodges were constructed to accommodate adventurous tourists who preferred to spend their vacation time on the slopes of Haleakala. As a vision of the past owner, Fred Romanchak who acquired the property in 1984, this historic lodge was expanded to include a spacious terrace with outdoor seating and artisanal pizza oven, and lush floral gardens showcasing local and exotic plants. The restaurant offers hearty breakfast fare influenced by tropics and local Hawaiian culture, and fine dining accompanied by an extended selection of wines including local specialities. Full service bar, the only in Kula, has signature cocktails created from finest local ingredients on the menu. Five lodges offer restful accommodations, while on-site Kula Marketplace carries unique gifts crafted by over 200 local artists and artisans.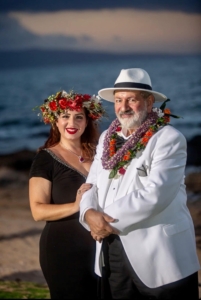 The historic Kula Lodge is now under new ownership and management by the Vojdani family, who are the owners of 5 Palms Restaurant. 5 Palms, previously located at the Mana Kai Resort on Keawakapu Beach for 27 years, and have been restructured and reopened at the Kula Lodge.
Operations are overseen by Simon Vojdani, CEO, and his daughter, Stephanie Vojdani, COO. Simon has long been a prominent figure in the restaurant industry. He has owned/operated nearly 100 fine dining restaurants throughout the country since 1969. In 1995, he and his family planted roots on Maui with the opening of 5 Palms Restaurant, which became one of the longest-operating restaurants on the south side and was best known for its fresh seafood, Hawaiian hospitality and oceanfront views. Chef Raul Bermudez continues on with the 5 Palms Family, bringing Farm-to-Table, Mauka to Makai concept to the Kula Lodge.
The lodge is currently open for brunch until 2:30pm daily, dinner service and happy hour are now being served Wednesday through Sunday, and the 15% off Kama'aina discount (on entrees) is available. Check the 5 Palms and Kula Lodge Facebook pages for further announcements and updates, or call us for more information at 808-878-1535.